COMPANY CAPABILITIES
PED-Stuart Corporation uses a combination of classic techniques which are proven to produce the highest quality results with cutting-edge technology to provide finishing which prolongs the life of the products. We specialize in radio frequency and thermal welding of polyvinyl chloride (PVC), polyurethane (PU), polyethylene (PE), and polypropylene (PP). Contact us for more information on how we can help you.
Radio Frequency Welding
Radio-frequency welding, also known as dielectric welding and high-frequency welding, is a plastic welding process that utilizes high-frequency electric fields to induce heating and melting of thermoplastic base materials.
Thermal (Heat) Sealing
Heat sealing is the process of sealing one thermoplastic to another similar thermoplastic using heat and pressure. The direct contact method of heat sealing utilizes a constantly heated die or sealing bar to apply heat to a specific contact area or path to seal or weld the thermoplastics together.
QUALITY CONTROL
Quality Management System (QMS) complies with ISO 13485:2016 & 21 CRF 820CGMP requirements.
Radio Frequency Sealing Machines
In and Out Shuttles

Side by Side Shuttles

Turntables

Inline Seal and Cut (Second Stage Hydraulic Cut for Thicker Laminated Products)

Sealing Surface Area Up to 20" x 40"
Thermal (Heat) Sealing Machines
In and Out Shuttles

Side by Side Shuttles

Sealing Surface Area Up to 32" x 42"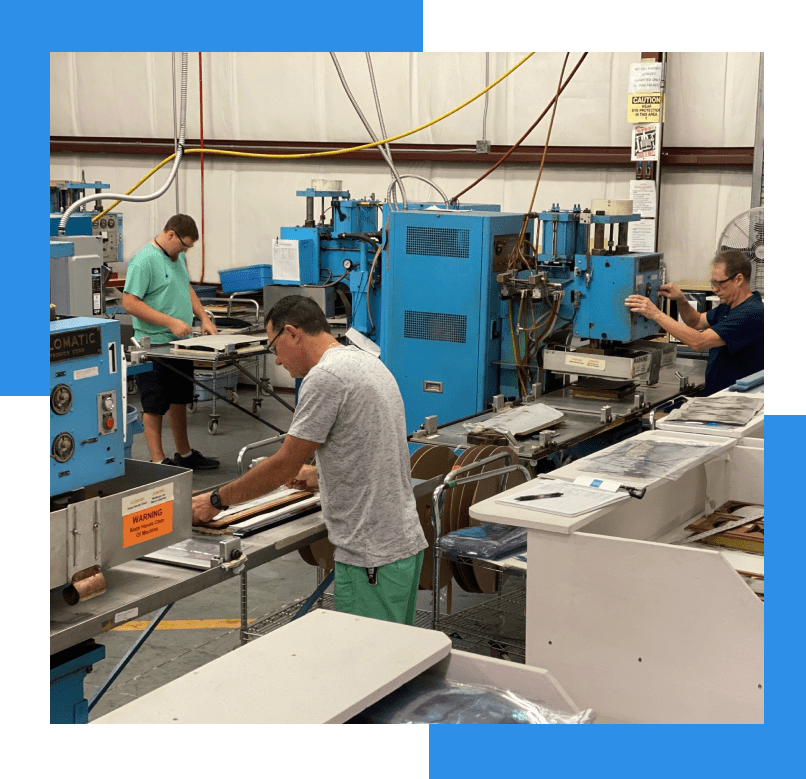 Other Capabilities
Hydraulic Cutting Press – 24" x 50"

Roller Cutter – 26" x 45"

Slitting and Sheeting – 70" Width

Dust-Free Clean Rooms

Sewing

Riveting

Foil Stamping

Sublimation Printing

Heat Transfer Printing

UV Printing with Green Guard Ink – 4' x 8'

Laser Engraving and Cutting – 36" x 50"

Packaging